9 Reasons Why You Should Join 8B Education
There are hundreds of organizations out there that work in education. So why should you choose 8B Education?

In this article, we are going to cover 9 reasons why joining us is the best choice you can make as an ambitious African student.
1. Free Access to 1000+ Scholarship Opportunities for African Students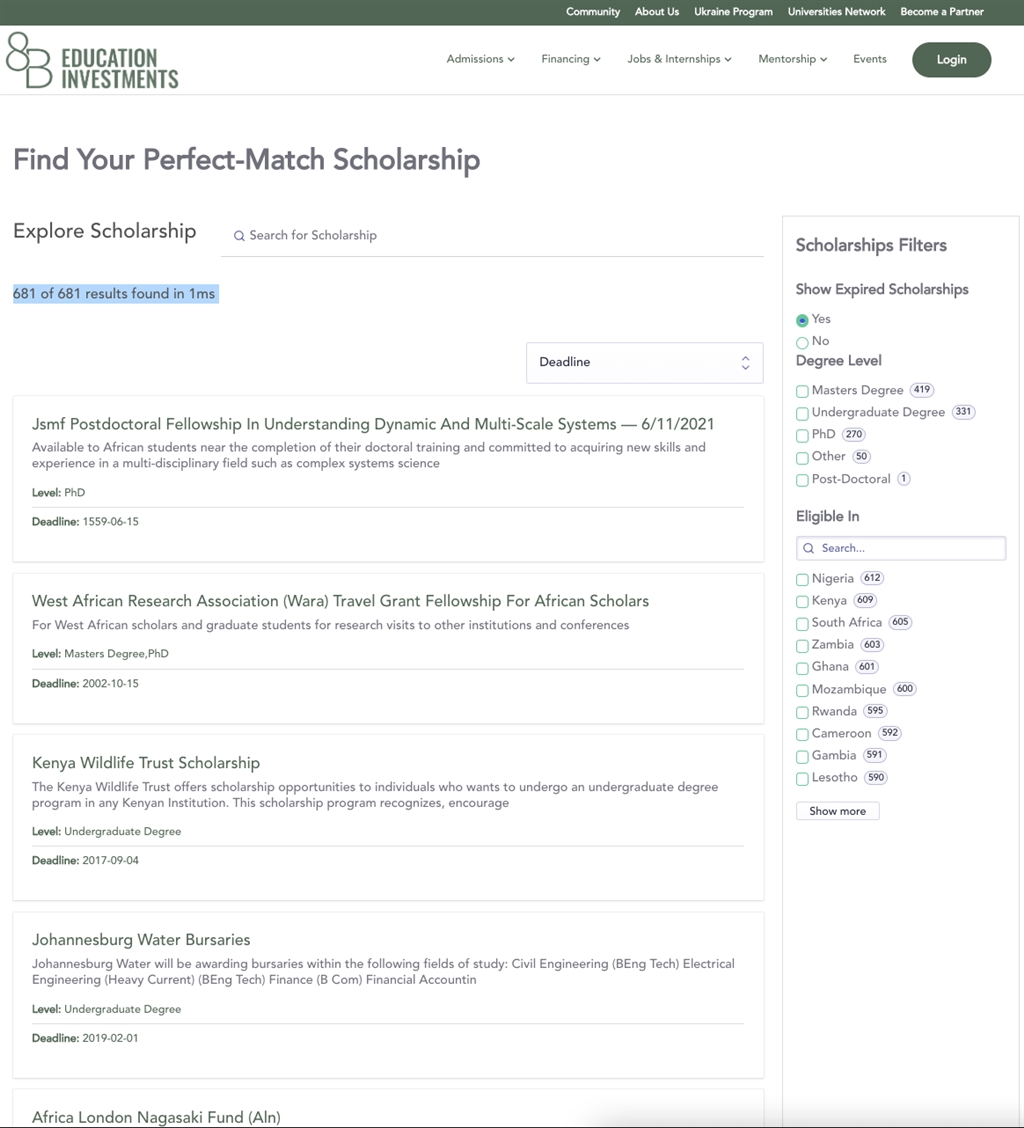 If you have ever tried to look for a scholarship as an African student, you will discover one thing: information about scholarships for African students is scattered across dozens of websites that are often temporary. In other words, there is no central database with all the scholarship information for African students. For the first time ever, 8B Education has aggregated all kinds of scholarship opportunities for African students in one central place. You do not have to jump across several websites to find the right scholarship for you. Through 8B's scholarship research platform, you can explore more than 1000 scholarship opportunities and select what is best for you.
2. Free Access to Information About 3000+ Leading Global Universities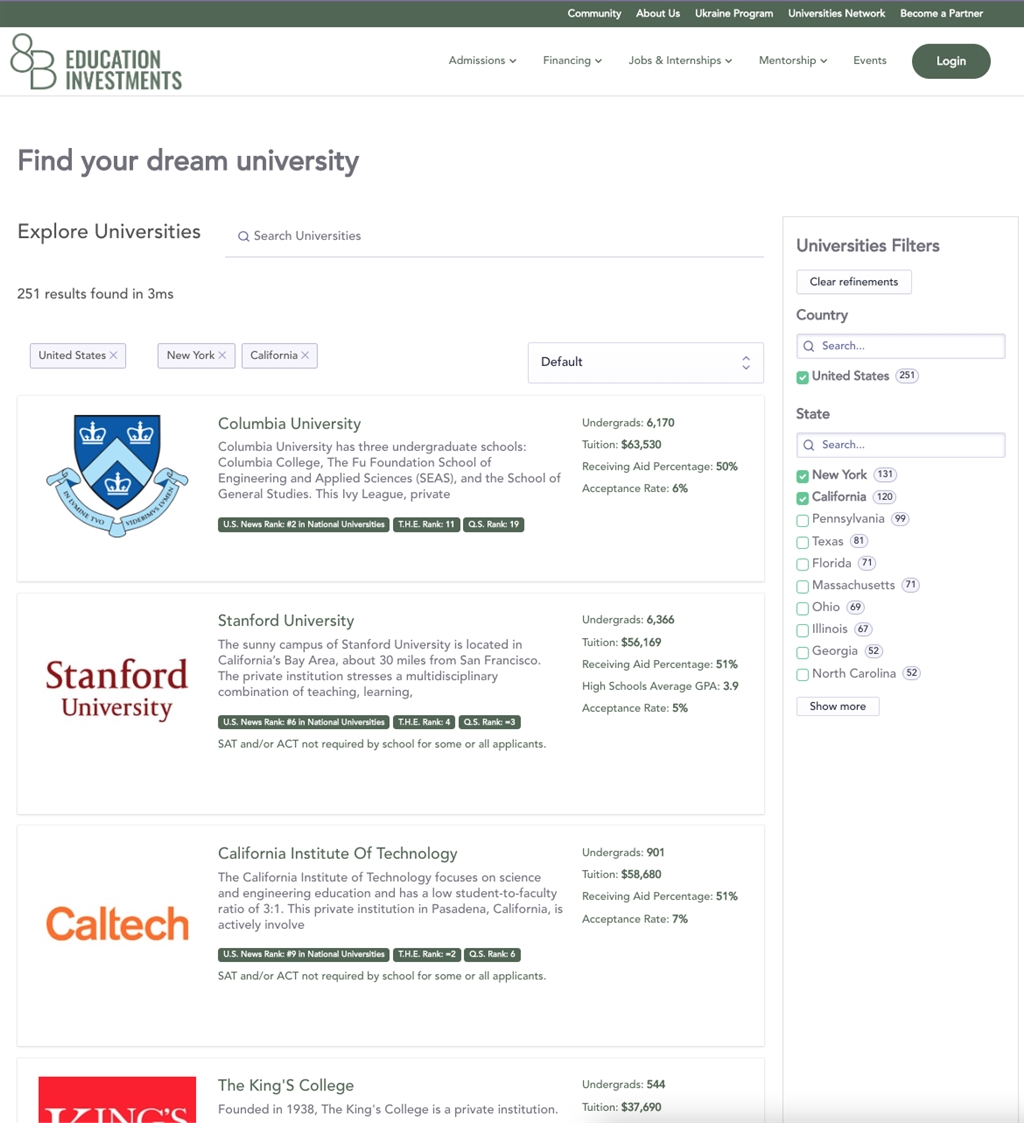 In addition to our scholarship research platform, we have also built a robust universities research platform that will help you discover your dream university. Whether you want to find a university in Germany or Canada or the United States, all you need to do is jump into our university research platform and check out the options we have. We also show you all the courses available in a particular university among other crucial information you need to make your choice. Check out our university research tool now.
3. Access Affordable Student Loans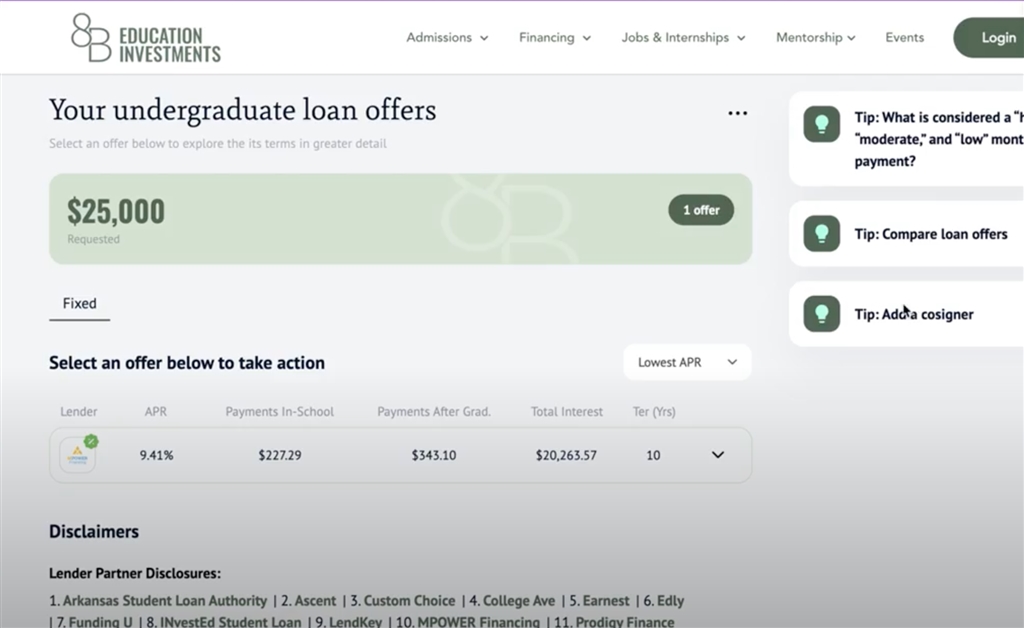 8B has built the first of its kind affordable student loans platform for African students. Our lending marketplace is the first central place where African students can research their loan options, compare the rates provided by different lenders, and successfully obtain the funds they need to complete their education abroad. Our affordable loans are designed with terms that are specifically cognizant of the circumstances of African students. Visit our lending marketplace now to learn more!
4. Access to Free Mentorship Network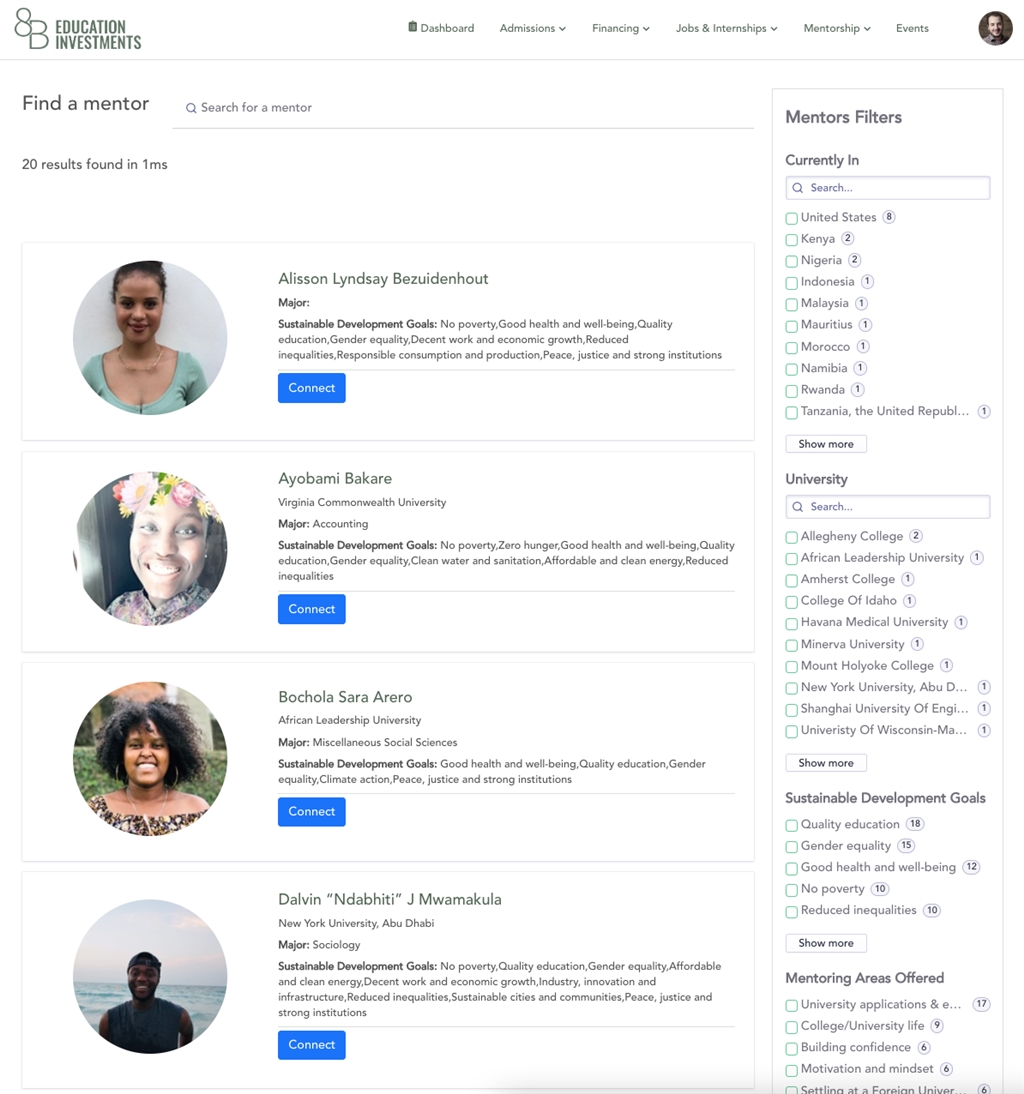 Mentorship is one of the most crucial ingredients for success. Whether you are just thinking of applying abroad or already in your final year of college in an international university, 8B Education has the right mentor for you. A mentor is someone who has walked the path before you; he or she has successfully navigated the journey that you want to start. As such, the mentor is in a unique position to provide you with the guidance needed to succeed and exceed the expectations you set for yourself. 8B mentors are a mix of students in leading global universities as well as industry experts. Find an 8B mentor now!
5. Access to the Latest Jobs and Internships Opportunities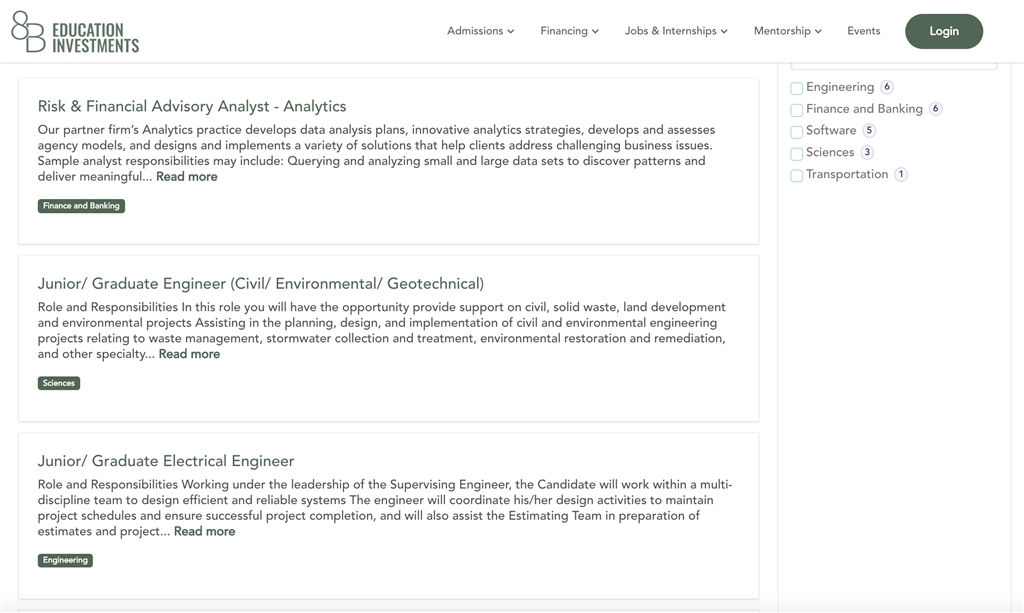 Our jobs and internships platform connects qualified African students with employers all around the world. To be considered, just visit our jobs and internships platform and upload your resume. If your skills meet what our partner employers are looking for, you will be contacted for further evaluation. Check out our jobs and platforms here.
6. Free Access to the Most Vibrant Educational Community in Africa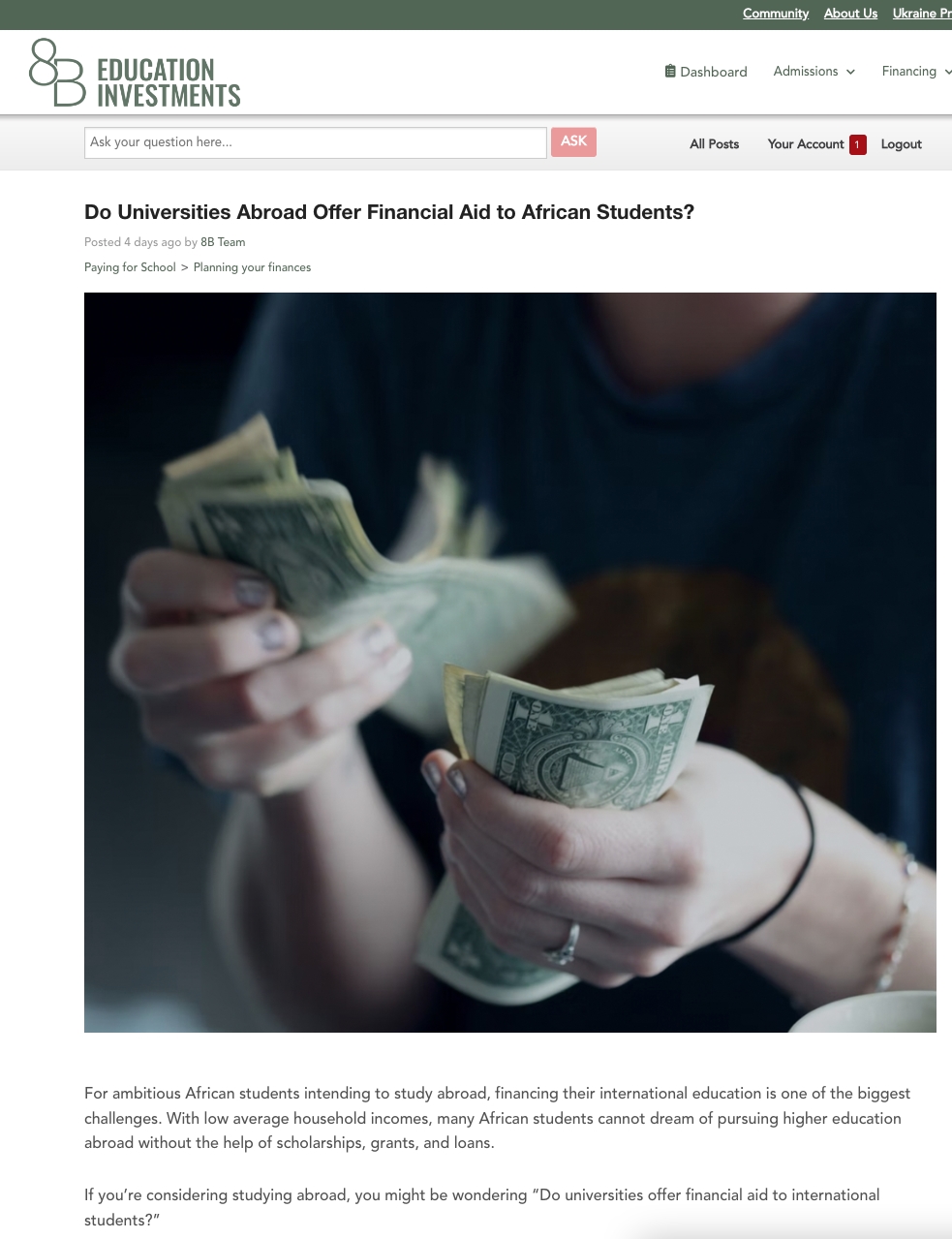 The 8B Community Platform is a hub where ambitious African students come together to learn about admissions to international universities, financing, jobs, and much more. In our community, we have a mix of students, mentors, and professionals who will provide thoughtful and detailed answers to all questions you have about the process of studying abroad and pursuing professional opportunities.
7. Free Access to a Vast Library of Guides and Resources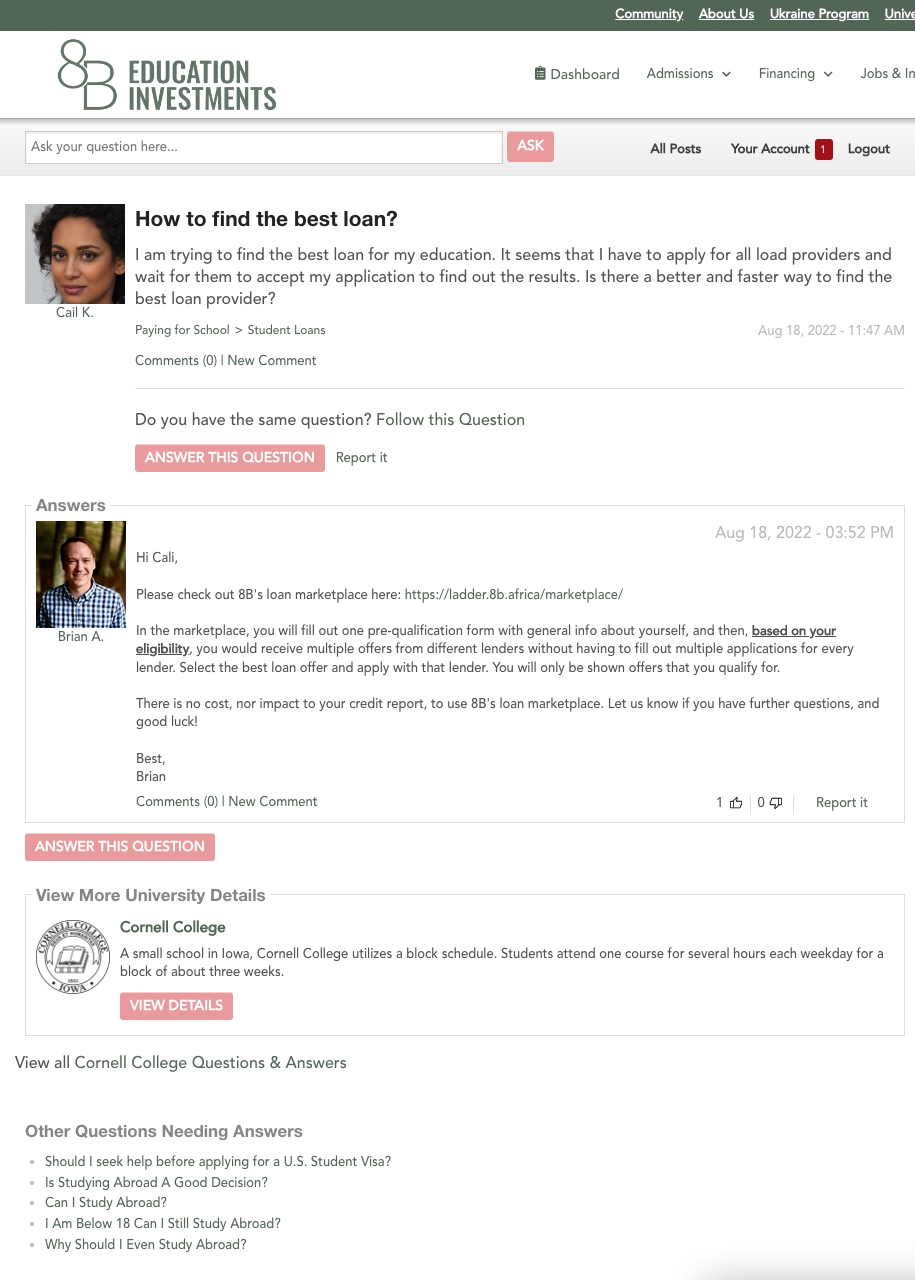 8B Education has created a vast library of free resources that will help you tackle every step of your application process. Not sure how to write your personal statement? Unsure what to tell your teacher when requesting a recommendation letter? Worry not. Our guides and samples will help you smoothly navigate these steps of the study abroad process. Check out the resources section on our website to learn more.
8. Free Events and Webinars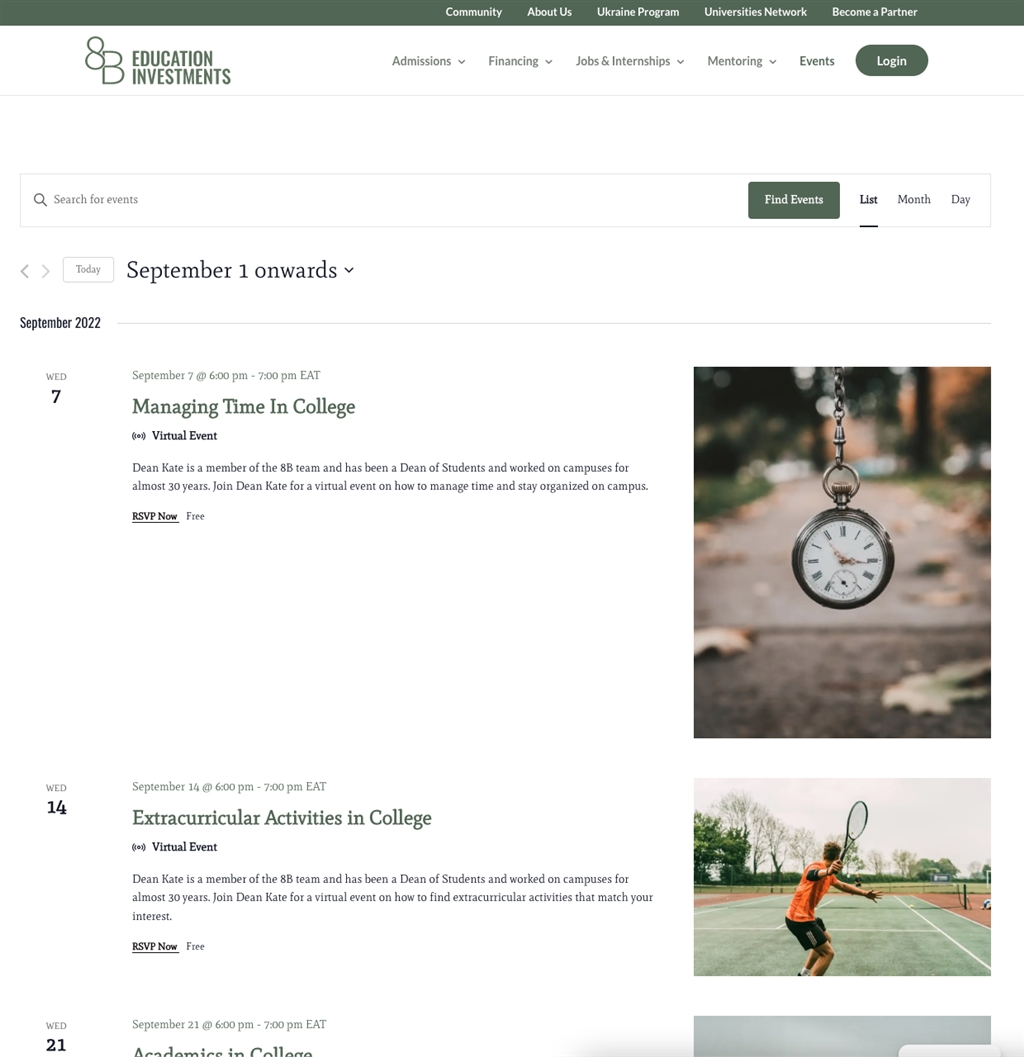 Every week, 8B Education hosts free events on a wide range of topics related to studying abroad and thriving in university as an African international student. By joining 8B, you will have free access to these events and webinars where you will get a chance to connect with the 8B team, experienced mentors, and leading industry experts. To check out the upcoming events, check out our events page now!
9. Free Weekly Newsletter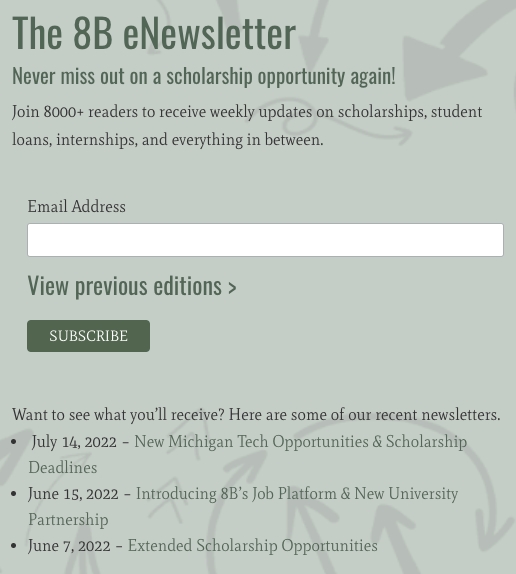 Our free newsletter will keep you updated on the latest scholarship opportunities for African students, latest jobs and internships opportunities, as well other topical issues in the higher education sector. To subscribe, just
click on this link
.